Duanpen Theerawanviwat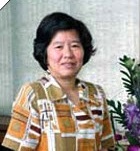 Given name: Duanpen
Surname: Theerawanviwat

Country of nationality: Thailand
Country of residence: Thailand

Mailing address: 118 Seri Thai Road, School of Applied Statistics, National Institute of Development Administration, Klong-Chan, Bangkapi, Bangkok 10240
Email address: This email address is being protected from spambots. You need JavaScript enabled to view it.
Telephone (Home): 085-018-7217
Telephone (Office): 02-727-3052

Highest degree: Ph.D.
Year: 1989
Institution: University of Hawaii (Manoa)
Discipline: Sociology (Population Studies)

Current employment/position: School of Applied Statistics, NIDA
Previous employment:
1. Associate Professor at NIDA
2. -
3. -
Other honorary or professional positions:
1. The Royal Thai Government Golden Jubilee Research Scholarship, Thai Research Fund, 2007
2. Scholarship from the Royal Thai Government to study aboard
3. -
Publication:
1. Duanpen Theerawanviwat. (2014). "Intergenerational Transfers and Family Structure: Evidence from Thailand." Ageing International. Vol.39, 327-47.
2. Dararatt Anantanasuwong, Duanpen Theerawanviwat, and Others. (2015). Panel Survey and Study on Health, Aging, and Retirement in Thailand (HART). Research Center, NIDA. (in Thai)
3. Aungsna Boontham and Duanpen Theerawanviwat. (2009). "Multidimensional Indicators of Healthy Women in Reproductive Age." Journal of Public Health. Vol 38, 443-56.
4. Krisda Sawangdee, Vichit Lorchirachunkul, Duanpen Theerawanviwat and Jirawan Jithavet. (2009). "Working Life Table for Professional Nurse in Thailand." Journal of Population. Vol.1, No.1, 73-93. (in Thai)
5. Supawan Manosoonthorn and Duanpen Theerawanviwat. (2007). The Study of Body Mass Index among Thai Adults. The Poceedings, Decision Science Institute and Asia- Pacific Decision Science Institute.